1/1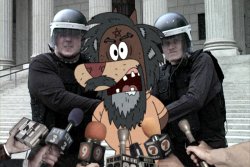 ---
GOLDEN AGE
NY Premiere
Director: Aaron Augenblick
United States, 2006, 23 min
Festival Year:2007
Category:Animation
Cast:Aaron Augenblick, Tim Harrod, Kamala Sankaram, M. Wartella
Crew:Screenwriter: Aaron Augenblick & Tim Harrod - Editor: Edmond Hawkins III - Original Score: Bradford Reed - Sound: Bradford Reed, Britt Myers - Photo Graphics: M. Wartella - Storyboards: Joy Kolitsky - Backgrounds: Jeremy Jusay, Joy Kolitsky - Animation: Chris Burns, Lou Solis - Production Manager: Kristofer Wollinger
Sales:Augenblick Studios, Brooklyn, NY 11201, USA - T: 718-855-9226 - F: 718-855-9227
Email:aaron@augenblickstudios.com
Synopsis
Golden Age is an animated dark comedy revealing the sordid lives of eccentric cartoon characters from yesteryear. Ten segments highlight the stories of animated entertainers as they struggle to succeed as animation superstars. From Jerome the Gumdrop to Antsy and the Bugaboos, Golden Age uncovers the seedy underbelly of the world of cartoons.
About the director
Aaron Augenblick is the founder of Augenblick Studios, an independent animation studio in Brooklyn, NY. Augenblick Studios has been operating since 1999, producing a wide variety of animated content. Notable productions include Ugly Americans (Comedy Central), The Jellies (Adult Swim), Superjail (Adult Swim), Losers (Netflix), and Wonder Showzen (MTV). He is currently producing Teenage Euthanasia (Adult Swim), which premieres in summer 2021.

Augenblick has directed numerous award-winning independent films, including Ramblin' Man, The Wire, and Midnight Carnival. He wrote and directed the 2007 short film Golden Age, which was an official selection of the Sundance Film Festival and won the Grand Prize in the Ottawa Film Festival. In 2019, Augenblick celebrated his company's 20th anniversary with screenings and talks across New York City.

Lately, Augenblick has focused on developing his own original content. He currently has shows in development at HBO Max, Adult Swim, TBS, Paramount, and PBS. He created the horror-comedy series Death Hacks for Snapchat, which debuted in 2020 to critical acclaim. He recently created his first children's show, City Island, which is being produced at PBS Kids.

Augenblick's unique vision has established him as one of the leading animation directors in the world.
Notes
Director Aaron Augenblick will be available for Q&A after the screening.
Related links