1/1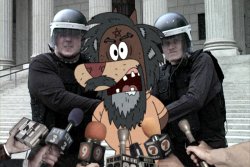 ---
GOLDEN AGE
NY Premiere
Director: Aaron Augenblick
United States, 2006, 23 min
Festival Year:2007
Category:Animation
Cast:Aaron Augenblick, Tim Harrod, Kamala Sankaram, M. Wartella
Crew:Screenwriter: Aaron Augenblick & Tim Harrod - Editor: Edmond Hawkins III - Original Score: Bradford Reed - Sound: Bradford Reed, Britt Myers - Photo Graphics: M. Wartella - Storyboards: Joy Kolitsky - Backgrounds: Jeremy Jusay, Joy Kolitsky - Animation: Chris Burns, Lou Solis - Production Manager: Kristofer Wollinger
Sales:Augenblick Studios, Brooklyn, NY 11201, USA - T: 718-855-9226 - F: 718-855-9227
Email:aaron AT augenblickstudios.com
Synopsis
Golden Age is an animated dark comedy revealing the sordid lives of eccentric cartoon characters from yesteryear. Ten segments highlight the stories of animated entertainers as they struggle to succeed as animation superstars. From Jerome the Gumdrop to Antsy and the Bugaboos, Golden Age uncovers the seedy underbelly of the world of cartoons.
About the director
In 1999 Aaron Augenblick founded Augenblick Studios, an animation production facility located in Brooklyn, NY. His company has produced a wide variety of works for television, film, and the Internet. Clients include MTV, Cartoon Network, Comedy Central, PBS, Nickelodeon, AT&T, and Spike Lee. Most recently, Augenblick Studios has created the animated content for two seasons of Wonder Showzen for MTV. Wonder Showzen is an absurdist comedy/variety show, featuring puppets, kids, and cartoons. Augenblick Studios garnered widespread notoriety for their spot on parodies of classic cartoons, leading to Aaron being named by Animation Magazine as one of the rising stars of animation in 2005.
Notes
Director Aaron Augenblick will be available for Q&A after the screening.
Related links