1/1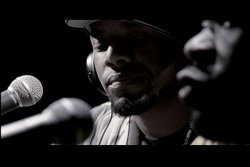 ---
RHYME ANIMAL
NY Premiere
United States, 2007, 22 min
Shooting Format:Super 16
Festival Year:2007
Category:Narrative Short
Cast:Craig "muMs" Grant, Bridget Barkan, Al Thompson, Dani Marco, Phil Roc
Crew:Producers: Aaron F. Schnore, Billy Fox, Jorge Rivera - Executive Producer: Jim Czarnecki - Line Producer: Rich Williams - Screenwriter: Aaron F. Schnore, Billy Fox, Jorge Rivera - Editor: Robert Salsbury - Cinematographer: Ricardo Sarmiento - Original Score: Michael Hampton, Sohrab Habibion, Bobby Matador, Barry London, Kid Millions - Sound: Justin Gray
Sales:Aaron F. Schnore, Producer - NY, NY 10019 - T: 646-220-7717
Email:schnore@gmail.com
Synopsis
A unique blend of hip hop and psychological horror, RHYME ANIMAL is the tale of a Brooklyn DJ who rides the coat tails of an up and coming rapper...who just might be a cannibalistic serial killer.
Trailer
About the director
Haitian-American director Phil Roc has directed music videos and other projects for music producer Dallas Austin, VH1, The Ford Motor Company, and many more. In 2004, he produced the Sony Music DualDisc documentary MADE IN HEAVEN-THE MAKING OF KIND OF BLUE, about the recording and influence of Miles Davis' quintessential album. Phil also directed the critically acclaimed short film AVENUE X. He was nominated for the 2004 IFP Market Gordon Parks Award for Directing, and was awarded Best Director at The 2005 Gotham City International Film & Video Festival. Also in 2005, Roc produced the film accompaniment for the Roger Waters opera- ÇA IRA, which premiered in Rome, Italy. He's recently completed another film, RHYME ANIMAL, starring Craig 'muMs' Grant, Al Thompson, and Bridget Barkan. The feature version of AVENUE X is in pre-production and he is currently working on a documentary about the return of Reggae music pioneer Claudius "Kingman" Linton.
Notes
Filmmakers will be available for Q&A after the screening.
Related links