1/1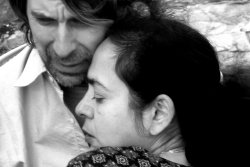 ---
A HOOKER & A DIRT ROAD END
NY Premiere
United States, 2006, 12 min
Shooting Format:35mm
Festival Year:2007
Category:Narrative Short
Cast:Camille Marshall, Michael Halliday, Rod Sweitzer, John Ashley Reese, John Nijhawan
Crew:Producer: Frank Ruy - Screenwriter: John Nijhawan - Editor: Chris Ciancimino - Cinematographer: Jimmy Lee Phelan - Sound: Luke Allen, Cory Choy - Prod. Deisign: John Albright
Sales:John Nijhawan, Producer - Brooklyn, NY 11211 - T: 917-721-4742
Email:johntheninja@gmail.com
Synopsis
In the face of global disaster an aging, small-town hooker sets out in search of one tender human-to-human moment... something that is not a transaction.
Trailer
About the director
John Raj Nijhawan grew up in Knoxville, TN & attended The University of Georgia - Athens where in 2002 he graduated with a BA in Journalism. He is currently an MFA Candidate in Directing & Cinematography at New York University. While at NYU, John was awarded a Dean's Fellowship. He is currently working towards his first feature film.
Notes
Director John Raj Nijhawan will be available for Q&A after the screening.
Related links