1/1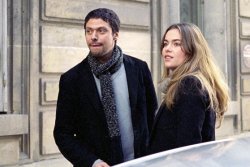 ---
LOVE THUNDERBOLT
(Coup de Foudre)
NY Premiere
Director: Vincent Primault
France, 2006, 5 min
Shooting Format:35mm
Festival Year:2007
Category:Narrative Short
Cast:Hédi Tillette de Clermont Tonnerre, Stéphane Brel, Amandine Maudet, Antoine Carillon, Jeanne Amaury
Crew:Producer: Olivier Gastinel - Screenwriter: Olivier Gastinel, Vincent Primault - Editor: Fred Praslicka - Cinematographer: Yohann Charrin
Sales:Marie Dubaille - CARLITO Films, 19-21 Rue Claude Tillier, 75012 Paris, France - T: +33 1 44 64 74 44 - F: +33 1 44 64 74 47
Email:info@carlitofilms.com
Synopsis
Two friends are chatting in the street when one of them sees a girl he falls immediately in love with. He decides to go talk to her.
About the director
Vincent Primault has been a actor for many years now. With his friend hédi Tillette de Clermont Tonnerre, they have written many short movies and series for television.
Notes
M. Vincent Primault will be available for Q&A after the screening.
Related links