1/1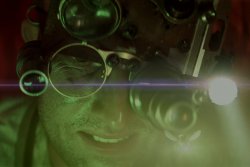 ---
FINKLE'S ODYSSEY
US Premiere
WINNER: Best Cinematography
Cast:Matthew Wilkinson, Gareth Marks
Crew:Producers: Claire Neate James & Richard Wakeman - Editor: Jo Scott - Cinematographer: Fredrik Callinggard - Original Score: MPM London - Sound: Will Cohen - 5.1 Dolby SRS: De Lane Lea - Art Director: Bryron Broadbent - Special FX: Jethro & Nonny - Post Production: Clear Post
Sales:Claire Neate James, Producer - London, UK - T: +44 1974373344 - F: +441974373355
Email:claire@neatejames.tv
Synopsis
Struggling young writer Finkle is so hampered by his inability to create he will go to any length in his search for inspiration. His dream draws closer when a mysterious salesman called Swallows sells him a suitcase full of ideas. These ideas are actually the living incarnation of the word in the form of microscopic mites. It is these mites that ultimately guide him to a mysterious orifice living in his ceiling, through which he must enter in order to end his torment...
Trailer
About the director
Barney Clay graduated London International Film School by directing the short film "Justice in Mind"which won Best Film in the Fuji Film Scholarship Awards and was nominated for a BAFTA. Clay recently caused a stir in the fashion industry by writing and directing the short "Carousel" starring Chloe Sevigny. "Greetings From Beartown" his is first feature-length documentary was shown on Channel 4 last year and documents the gypsy, punk band "Menlo Park" across Russia. Music videos credits include Gnarls Barkley "Who Cares" (winner of online award for "Best Art Direction" by Antville.org), Zero 7, (nominated best SPFX - Cad's) and 'Deadwood' - Dirty Pretty Things. He was also nominated for "Best New Director" CADS 2001
Notes
Director Barney Clay & Producer Claire Neate James will be available for Q&A after the screening.
Related links