1/1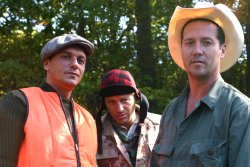 ---
MADE IN BROOKLYN
World Premiere
Director: Alosio, Angela, Mazzola, Tabb, Palanca
United States, 2007, 88 min
Shooting Format:HDCAM
Festival Year:2007
Category:Narrative Feature
Cast:Michael Rispoli, Peter Dobson, Costas Mandylor, Vince Curatola, Richard Portnow
Crew:Producers: Luca Palanca, Malek Akkad, Jon Sheinberg - Screenwriter: Luca Palanca - Editor: Ran Ballard - Cinematographer: Alicia Robbins, John Campbell
Sales:Luca Palanca, Producer - Los angeles, CA 90036 - T: 310 435 5119
Email:luca_palanca@hotmail.com
Synopsis
Made in Brooklyn is a film about the neighborhood. Four stories woven together by a cute little girl selling lemonade on a corner.
Our first story: "Let It Go," introduces us to Dominick, the nicest guy in the neighborhood. When Dom's next-door neighbor, Mary, loses her keys Dom not only tries to help Mary find them, but even spends his entire day replacing her lock! Mary still won't let go of the old key, the neighborhood gets involved, Dom alienates long time friends- proving "No good deed goes unpunished!"
Then we come to "Happy Birthday Joe." A story about a goodfella who we meet right after he has testified against the Brooklyn mob. Placed in the Witness Protection Program, he meets up with another "fella" who has been in the program for five years. Together, these guys have had ENOUGH with small town America and that fact becomes even more evident as "store policy" at a local bakery conflicts with everything these two tough guys know.
Our third adventure is truly that, only "Brooklyn-style"! In "Wood", four knuckleheads from the neighborhood decide to leave the block for the first time in 35 years and go camping. The friendship is tested and strengthened in a place where street smarts count for nothing. These guys, not to mention the woods, will never be the same!
The final story,"Choose Life", embraces everything we think about the neighborhood and the '80s. In a story like we have never seen before, two charming, low-end gangsters face the music after bumbling their way through an assignment. In a strange twist of fate, they become the next "assignment." Somehow, they still find a way to dance, sing, and definitely choose life.
Trailer
About the director
Gregory Alosio, Sharon Angela, Jeff Mazzola, Joe Tabb, Luca Palanca all live and work in Brooklyn.
Notes
Cast and Crew will be available for Q&A after the screening.
Related links