1/1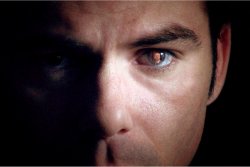 ---
FORFEIT
NY Premiere
Director: Andrew Brendan Shea
United States, 2006, 84 min
Shooting Format:Super 16
Festival Year:2007
Category:Narrative Feature
Cast:Billy Burke, Sherry Stringfield, Gregory Itzin, Wayne Knight, John Aylward
Crew:Producers: Andrew Brendan Shea, John Rafter Lee, Carol Ann Shine, Sherri James - Screenwriter: John Rafter Lee - Editor: Melissa Shea - Cinematographer: Roberto Blasni - Original Score: Andrew Gross - Sound: Scott Weber - Casting: Shana Landsburg C.S.A. & Terri Fiddleman - Production designer: Paul L. Jackson
Sales:David Garber, C.E.O. - Lantern Lane Entertainment Ltd., PO Box 8187, Calabasas, CA, 91372-8187 - T: 818-222-2309 - F: 818-224-4028
Email:dgarber@laternlane.com
Synopsis
FORFEIT explores the human traits of greed, obsession, and revenge. This clever and engaging heist flick tells the story of a man hell-bent on exacting vengeance on the people who have wronged him. Frank O'Neal (played by Billy Burke) appears to be readjusting to life back in his old neighborhood, including a reconciliation with his ex-girlfriend. We quickly learn however, that his motives are not entirely what they seem. Ultimately, his friendship with an overzealous televangelist places him on the brink of self-destruction. Andrew Shea's taut thriller features an impressive cast, including Sherry Stringfield (ER), Gregory Itzin (24) and Wayne Knight (Seinfeld).
Trailer
About the director
Andrew Brendan Shea teaches directing and film/video production in the Department of Radio-Television-Film at the University of Texas at Austin. Andrew's last feature, THE CORNDOG MAN, premiered at the Sundance Film Festival and went on to screen and win awards at a number of domestic and international festivals. His first feature, SANTA FE, also premiered at Sundance. His short film, TAKE MY BREATH AWAY, was invited to screen at the 1993 Cannes Film Festival.
Notes
Director Andrew Brendan Shea will be available for Q&A after the screening.
Related links