1/1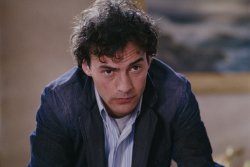 ---
7 DAYS
(7 Dias)
East Coast Premiere
Director: Fernando Kalife
Cast:Jaime Camil, Eduardo Arroyuelo, Martha Higareda, Julio Bracho
Crew:Producers: Fernando Kalife, Bernardo Bichara, Leonardo Villarreal - Screenwriter: Fernando Kalife - Editor: Juan Carlos Garza - Cinematographer: Gonzalo Amat - Original Score: Jeff Cardoni - Sound: Chris David, Terry Rodman
Sales:Kristi Alires, Sales Management - Xenon Pictures, 1440 9th Street Santa Monica, CA - T: 310-4515510
Email:kalires@xenonpictures.com
Synopsis
"7 Days" is the story of desperate Claudio Caballero, a man who lives in the shadow of how great an event organizer his dead brother was. Claudio convinces his girlfriend Gloria to lend him $500,000 to place a suicidal bet at a clandestine casino, believing he'll walk out with the budget to bring the best rock act in the world to his hometown. He fails, but is given an unexpected last chance.
Trailer
About the director
Fernando Kalife lives and works in Mexico. Fernando studied Film Directing at USC.
Filmmaker's note
"7 Days" is a project that was born during my stay at USC, in the Graduate Program for Screenwriting (2001-2002). The screenplay that is "7 Days" today came about thanks to the collaboration of people such as Marcela Fuentes-Berain and Marina Stavenhagen, as well as Beatriz Novaro, Rossana Curiel, José Büil and Francisco Sánchez.
The central theme of "7 Days" should be easy to understand, although, sadly in our culture, difficult to apply. A guy who believes in the possibility of winning (which is saying a lot) and who during his tiring journey of belief, which is paved with lies and deceit, will begin to uncover (and discover) that it is not only through hard work, dedication and knowledge that one's objectives can be reached, but rather, through this entire process, one can become a 'real' person instead of just another failed sketch of what could have been. All of this, even though it may cost him his life, all of it is to pursue something in which he can believe in and dream about, all the while understanding that it has to be fought for, with pain and sweat, and in the end, you may live or you may die.
Moliere Films and I, a humble servant, propose to bet, like Claudio, on Mexican films that feature themes not often seen on nacional TV, with more cities, more subcultures and with other possibilities. Films that, without offending all of the others, can succeed in distinguishing themselves from the usual fare through their unique portrayal of concepts and themes. "7 Days" hopes to tell a nice story with dramatic underpinnings, and one that is also layered with constant action and humor. But above all else, we hope to tell a story that honors Mexican filmmaking.
Notes
Director Fernando Kalife will be available for Q&A after the screening.
Related links