1/1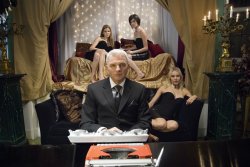 ---
STANLEY CUBA
East Coast Premiere
United States, 2006, 80 min
Shooting Format:Super 16
Festival Year:2007
Category:Narrative Feature
Cast:Mike Birbiglia, Adrian Martinez, Melissa Silver, John Ramaine, Danny Asher, Lars Engstrom, Barry Phillips, Bill Barnett, Kasey Marr, Patrice Bunch, Richard Kent Green, Jana Robbins, David Ellner, Mile Rupcic, Anthony Caso
Crew:Producer: Ari Taub - Screenwriter & Editor: Per Anderson - Cinematographer: Ian Dudley - Original Score: Anne Kadet - Costumer: Kay Anna Lee - Composer: Anne Kadet - Supervising Sound Editor: Matt Rocker
Sales:Per Anderson - Openline Pictures, Brooklyn, NY 11211 - www.stanleycuba.com
Email:thisisper@hotmail.com
Web:stanleycuba.com
Synopsis
A rectangular black obelisk, intellectual property lawyers from hell, the most gratuitous lesbian kiss ever, five Brooklyn bands, aesthetic transcendence through selling out, something about Stanley Kubrick, and Mike Birbiglia.
Trailer
About the director
Per Anderson had his mind warped at an early age when PBS ran the entire Monty Python catalog for 14 days straight during a winter school break. STANLEY CUBA is his debut feature as writer/director. Previous credits include Police Beat as 1st Asst. Director (Sundance 2005). Per studied film production at the University of Melbourne, Australia and woke up in Brooklyn after a botched "rendition" flight from Rarotonga.
Notes
Cast & Crew will be available for Q&A after the screening.
Related links