1/1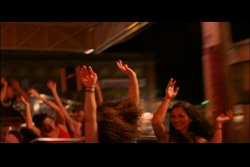 ---
AIRPLANES
NY Premiere
United States, 2006, 10 min
Shooting Format:35mm
Festival Year:2007
Category:Narrative Short
Cast:Rachel Perry Kieffer, Christa Russo, JT Norton
Crew:Producer: Shilpa Mankikar - Cinematographer: Martina Radwan - Original Score: Fred Sargolini - Sound: John Moros - Associate Producer & Production Manager: Carolina Saavedra - Additional Editor: Scott Rosann
Sales:Maura King, Distributor - Frameline, 145 Ninth St. #300 San Francisco, CA 94103 - T: 415-703-8667 ext. 306
Email:maura@frameline.org
Web:www.jenheck.com
Synopsis
Airplanes is the story of two teenage girls who secretly hook up one day at a traveling carnival. Although their encounter is brief, like an airplane it's bound by gravity, and doomed to return to earth.
About the director
Jen Heck has worked as an editor, director, writer, and producer for clients including Winton/duPont Films, VH1, Bravo, TechTV, and Charged Animation. Her films have been featured at the Whitney Biennial and the Museum of Modern Art, and at festivals including Frameline, Sundance, Sao Paulo, Hamptons, Palm Springs, and more. Her newest film, "Airplanes," is the winner of the 2007 PlanetOut Short Movie Award. Jen is currently a student in Columbia University's Graduate Film Program.
Notes
Director Jen Heck will be available for Q&A after the screening.
Related links