1/1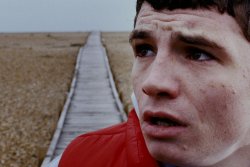 ---
A NEUTRAL CORNER
East Coast Premiere
Director: Emily Greenwood
Cast:Jody Latham, Valerie Leon, Jon Murray
Crew:Producer: Simon Hinkly - Screenwriter: Emily Greenwood - Editor: Alex Peach - Cinematographer: Mike Southon B.S.C. - Original Score: Richard Hammarton - Sound: Robin Fellows
Sales:Emily Greenwood - Magic Eye Productions, London UK - T: +44(0)7855417606
Email:egreenwood@magiceyeproductions.co.uk
Synopsis
When Graham Brien, a young boxer, is out on a training run, he finds himself in a mysterious and desolate town where he is goaded by a dog and a mysterious figure who seems strangely familiar. Taking refuge from the bleak elements in an empty café, he meets Flo, a caring yet distant waitress who seems as much a part of the décor as the '30s music. Graham quenches his increasing thirst with a cup of tea and a glass of water, but is bemused by the bowl of blancmange which Flo has insisted on serving him. The stranger appears again and suddenly Flo has become an inquisitor, asking simple questions of Graham, questions that he finds frustratingly hard to answer. He leaves the café, convinced that he can hear the voice of his mother and confused by the fact that there seems to be no way out of this unforgiving place. His desperation is eased by the arrival of a steam train, which he boards in the hope that it will transport him from this town. But he has chosen the wrong carriage. The stranger is there to meet him, as are the strained sounds of his dead mother's voice. Graham is on a journey, but where will it take him?
Trailer
About the director
Emily Greenwood (London, 1975) started her filmmaking journey by pursuing a Film Studies degree at Paul Valery University, Montpellier, France. She currently works in London as a Digital Online Film Editor for Ascent Media. Emily's greatest creative influence is life experience and dreams and by making an inspired mix of both her conscious and subconscious, she hopes to add a realistic edge with an essence of character and originality to her work.
Notes
Director EMILY GREENWOOD and Actor JON MURRAY will be available for Q&A after the screening.
Related links