1/1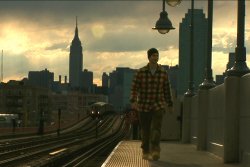 ---
HIP HOP DIARIES
US Premiere
Cast:kez 5, nato, keyboard money mike, danger, international p, henry chalfant, martha cooper, earsnot, coco 144, d moet
Crew:Producers: Alvise Cosma Girotti, Carlo Lavagna - Editor: Matteo Barzini, Carlo Lavagna - Cinematographer: Carlo Lavagna, Nicola Prosatore - Original Score: Willy Rappeport, Sergio Picciaredda - Sound: Fabio Sabatini - Graphics & Titles: Giuseppe Ambrosio
Sales:Alessandra Massari, Sales - GA&A, Rome, Italy - T: +39 06 3613480
Email:alessandram@gaea.it
Synopsis
This documentary shows the hip hop crisis by following five characters from NYC as they indulge their own personal conquests for fame: Kez5, one of greatest and most hard core graffiti writers of all time, funder of the YKK crew. He escaped from home at the age of fourteen. He has been homeless, lived with prostitutes, and was diagnosed with cancer at the age of twenty. International P, host of the "Monday Night Fight Klub," an emerging breeding ground for some of the most talented MCs. Keyboard Money Mike, the man who discovered and produced the hip hop guru KRS One in the early 80's. In just two years he gained and lost a fortune. He is now working with a new group called "The Mozaic." Nato, a graffiti writer from Queens. He started writing graffiti after his father committed suicide when he was fourteen. Nato and his girlfriend discover together that she is pregnant. The idea of becoming a father changes Nato's life and leads him to the difficult decision to stop bombing. Finally, Danger, a young rapper struggling for success after a four years jail sentence for being an accomplice to a homicide. He survives selling weed.
Trailer
About the director
Carlo Lavagna (Rome, 1977) is a director of documentaries, commercials and music videos. Winner of best editing award at Festival di Palazzo Venezia 2006. Carlo's work has been presented at international film festivals such as Locarno and Gothenborg and broadcast on the major Italian and European televisions.
Notes
Director Carlo Lavagna will be available for Q&A after the screening.
Related links