Latest News: Director Marie-France Collard will be available for Q&A after the screenings.
1/1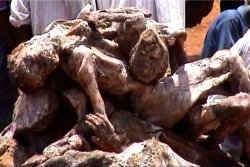 ---
RWANDA. THROUGH US, HUMANITY...
(Rwanda. A travers nous, l'humanité...)
East Coast Premiere
Director: Marie-France Collard
Crew:Producer: Groupov - Philippe Taszman - Editor: Marie-Hélène Mora - Cinematographer: Rémon Fromont - Original Score: Garrett List, Jean-Marie Muyango & Massamba - Sound: Cosmas Antoniadis
Sales:Carole Urbano - Groupov, Rue Bois l'Evêque 26-28, 4000 Liège, Belgium - T: +32 4 253.61.23 - F: +32 4 253.60.94
Email:groupov@skynet.be
Synopsis
Filmed in Rwanda in April 2004, during performances of the show Rwanda 94, in the context of the 10th commemoration of the genocide of the Tutsis and the massacre of Hutu moderates. How can theatre question reality when faced with the primary actors of the story told on stage? The intense, cathartic, active answer of the Rwandan audience brings to the fore the current concerns of the survivors. What is life like for them 10 years after the genocide? Echoing the issues in the play, "Rwanda. Through us humanity..." allows the survivors of the genocide to speak out, in their current reality, during this special period of mourning. The memory of the genocide is sought out, is established through the traumatic awakenings, the evocations, the disinterment and dignified burial of victims, the fears and worries with regard to the threats that still weigh upon them today. They express their profound resentment of us for having abandoned them, and of the international community for their silent complicity during the genocide, but also of the exclusion, discriminations and violence to which they are still submitted.
About the director
Marie-France Colard is a self-taught filmmaker. She has made several documentaries for the RTBF (Belgium) and also engaged documentary about the society. Since 1990, she has been a member of the Groupov, an artists' collective whose work is directed towards theatrical practice. She's the coauthor of the plays "Trash (A lonely orayer)," "Rwanda 94," and "Anathème." She also made films for theater and performances.
Notes
Director Marie-France Collard will be available for Q&A after the screening.
Related links