1/1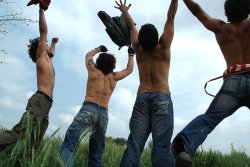 ---
RANG DE BASANTI
(Paint it Yellow)
Director: Rakeysh Omprakash Mehra
Cast:Aamir Khan, Siddharth, Sharman Joshi, Kunal Kapoor, Atul Kulkarni
Crew:Producer: Adam Bohling - Screenwriter: Renzil D'Silva - Cinematographer: Binod Pradhan - Original Score: A.R. Rahman - Sound: Baylon Fonseca
Sales:Vin Bhat, General Manager - BODVOD Networks, 72 Madison Avenue, New York, NY 10016 - T: 212 710-3088 - F: 646 349-4013
Email:vin@212media.com
Synopsis
India's submission to the Academy Awards, Rang de Basanti, translated "paint it yellow," is a story about the youth of India today. A young London-based filmmaker chances upon the diaries of her grandfather, who served in the British police force in India during the freedom struggle. Excited about these memoirs, she makes plans to shoot a film on the Indian revolutionaries mentioned in the diaries. She comes down to Delhi and casts a group of five young friends to play the roles of these revolutionaries. However, products of modern India, the five young stars refuse to be part of the project, as they can't identify with these characters. To them issues like patriotism and giving one's life for one's beliefs is what stuffy textbooks are made of. They would rather party. In this youthful, lively, and entertaining film, 1930s British India and the India of today run parallel and intersect with each other. As the film reaches its resolution, the line between past and present blurs, as they become one in spirit.
Trailer
About the director
Rakeysh Omprakash Mehra established Flicks Motion Picture Company Private Limited in 1986. He has directed over 150 commercials for various Indian and international clients. His credits include Coke, Pepsi, Toyota, American Express, Shell, BPL Electronics, and many others. He has also directed music videos such as 'Aby Baby' starring Amitabh Bachchan. Besides this he directed an award winning docu-drama 'Mamuliram' for Amul. In June 2001 his company Flicks Motion Picture Co. Pvt. Ltd. released its first full-length feature film titled 'Aks- The Reflection', directed by him and starring Amitabh Bachchan. Rakeysh O. Mehra has won many-acclaimed Indian and international awards for his work. Some of these include The New York Festivals, The Midsummer Awards, The Advertising Awards of Montreaux.
Notes
This film is presented out of competition.
Related links