1/1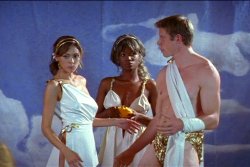 ---
SLIPPERY SLOPE
US Premiere
Cast:Kelly Hutchinson, Jim True-Frost, Laila Robins, Wes Ramsey, Leslie Lyles
Crew:Written, Produced & Directed by: Sarah Schenck - Producers: Nancy Hamada, Sabrina Tubio-Cid, Lynn Appelle, John Finley, Sam Pai - Casting: Super/Mabry Casting - Production Designer: Tora Peterson - Editors: Bill Henry & Savvas Paritsis - Cinematographer: Wolfgang Held - Music Supervisor & Composer: Agent Jackson - Costume Designer: Sandra Alexandre & Michael Bevins - Associate Producers: Steve Garfinkel, Lisa Mundy, Scott Rosenbaum, Tyagi Schwartz - Assistant Director: Arthur Howard - Second AD: Zachary May - Production Managers: Cassandra Johnson, Tracy Ryans - 2nd Unit DP: Joseph Foley - Production Coordinator: Lisa M. Mundy - Art Director: Ipek Celik - First Assistant Editor: Kiersten Harter - Production Sound Mixer: Brett Hammond - Boom Operator: Sean Condon - Script Supervisor: Katri Billard - Assistant Camera: Damon LeMay & Kate Larose
Sales:Fresh Films, Brooklyn, NY 11215 - Tel: 718-789-1252
Email:slipperymovie@aol.com
Synopsis
In the comedy "Slippery Slope," a fierce young feminist filmmaker who is desperate for cash to finish her documentary "Feminism for Dummies" secretly takes a job directing a porn film after her other moneymaking schemes don't pan out. She brings her feminist ideals to the porn set, and the experience unexpectedly awakens her slumbering sexuality, arousing the suspicions of her politically-correct husband and threatening her marriage.
Trailer
About the director
Sarah Schenck received her B.A. in Art History from Bryn Mawr College and her M.A. in Political Economy from Stanford University. As a writer/director/producer, her short films have won prizes in the U.K. and Belgium. In 2004, Sarah was nominated for an Independent Spirit Award for producing "Virgin," a $65,000 feature directed by Deborah Kampmeier, starring Robin Wright Penn and Elisabeth Moss. Before she became a filmmaker, Sarah has worked as the New York City Comptroller's Senior Advisor for Education; for The New York Times in Rio; as a product testing guinea pig for Procter & Gamble in Paris; as a fellow at the Metropolitan Museum of Art lecturing on fifteenth century Flemish painting; and caring for patients in Mother Theresa's hospitals in Calcutta. Sarah teaches filmmaking at Hunter College and advises in film studies at the New School. "Slippery Slope" is Sarah's first feature film as a writer/director (2006). She has written three other feature screenplays.
Notes
Director Sarah Schenck will be available for Q&A after the screenings along with cast & crew.
Related links