1/1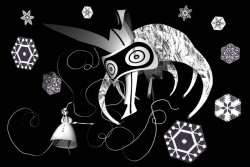 ---
HERZOG AND THE MONSTERS
Scotland, 2006, 4 min
Festival Year:2008
Category:Animation
Crew:Producer: Glasgow School of Art - Original Score & Sound: Al Paxton (metronomes) - Animation: Lesley Barnes
Sales:Lesley Barnes, Director - Glasgow, U.K. - T: +44 (0)141 334 5780
Email:lesleytoast@aol.com
Synopsis
In a digital cut-out animated film, a graphic fairytale is depicts little Herzog's journey through a forest. The woods are full of monsters that are actually letters. The film explores how language has the ability to embody wealth.
Trailer
About the director
Lesley Barnes graduated with an MA in Motion Graphics from the Glasgow School of Art.
Filmmaker's note
A graduation film inspired by Maurice Sendak's book Where the Wild Things Are, the silhouette animation of Lotte Reiniger and old books...
Related links