1/1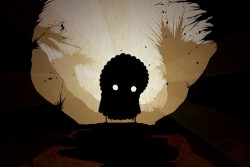 ---
THE LONG JOURNEY HOME
Director: Billie Mintz & Jeffrey Stewart Timmins
Canada, 2008, 7 min
Festival Year:2008
Category:Animation
Cast:Igor Vrabac (V.O.)
Crew:Producer & Story: Billie Mintz - Screenwriter: Billie Mintz & Jeffrey Stewart Timmins - Editor: Chirs de Castro - Original Score & Sound: Igor Vrabac
Sales:Billie Mintz, Artists Raising Consciousness, Toronto, ON, CANADA - T: 1 416 483 2747
Email:billie@arcinstitute.net
Synopsis
In a village that never knew sickness a boy is sent into the wilderness to find the cure to his illness. He returns from his great journey to a village that does not recognize him for the changes he has endured. They have no way to cope with his transformation or understand the message he brings back from his great journey. The boy is expelled from the village and forced to lead the rest of his life in a secluded wilderness. Until one day, much later, the village sends out a young warrior to find the Boy and bring him home. It is time. They are ready to hear his story. Are you ready to hear his story?
Trailer
About the director
Billie Mintz's professional storytelling career began at the age of 21, when he met and started managing Raul, the "Superdancer of the world." Raul was a 69 year old Inca Native from Peru who danced on the streets of Toronto giving free shows to the city's inhabitants. Billie worked with Raul, putting on "guerilla-theatre" in public to unsuspecting audiences, launching a series of films produced, written and directed by Billie that have been televised and exhibited in festivals around the world. His themes deal with marginalized individuals who have a message that has yet to be heard from their audience.
Notes
Director Billie Mintz will be available for Q&A after the June 3rd screening.
Related links