1/1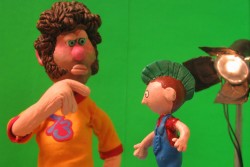 ---
24 FRAMES
NY Premiere
United States, 2007, 18 min
Festival Year:2008
Category:Animation
Cast:Brad Pattullo, Becky Van Cleve, Keith W. Cunningham, Matt Keown, Dr. Ying Yong
Crew:Editor: John Chrisman
Sales:Brad Pattullo, Saegertown, PA 16433 - T: 814-853-9132
Email:bpattullo@hotmail.com
Synopsis
24 Frames is a stop-motion animated black comedy mockumentary about a stop-motion animated film production at an art college in the southern U.S. The crew, which consists mainly of ambitious animation students, aspires to adapt a children's book into an animated film to impress the school's president, who also happens to be the director's mother-in-law. Incompetence, artistic differences, and a series of grisly mishaps soon cause the production to spiral out of control as the would-be filmmakers struggle to finish the project.
Trailer
About the director
Brad Pattullo was born in Kalamazoo, Michigan and has been doing freelance illustration since middle school. He received a Bachelor of Arts degree from the University of Michigan in 1995, and a Master of Fine Arts degree from the Savannah College of Art and Design in 2002. He has since worked on several animated television programs as well as several commercial, music video, and online projects. His independent films have been screened in such venues as Sundance Film Festival, Kalamazoo Animation Festival International, Siggraph's Electronic Theater, Brooklyn International Film Festival, Tehran International Film Festival, and the G4 television network. Brad is beginning his fourth year as an instructor, and his first year as the Cinema Area chair in the Art Department of Edinboro University of Pennsylvania, a well-known and well-respected animation program. Previously, he taught for two years in the Department of Animation and Digital Media at the College for Creative Studies in Detroit, Michigan. He was also a special topics instructor in the Continuing Education program at CCS and continues to teach workshops and special programs relating to film, animation, and drawing throughout Pennsylvania and the Midwest.
Notes
Director Brad Pattullo will be available for Q&A after the June 7th screening.
Related links