Latest News: "On the Line", BiFF 2008's Best Short and Student Oscar winner is also a 2009 Oscar Nominee for Best Live Action Short!
1/1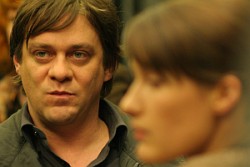 ---
ON THE LINE
(Auf der Strecke)
East Coast Premiere
Germany, 2007, 30 min
Shooting Format:16mm
Festival Year:2008
Category:Narrative Short
Cast:Roeland Wiesnekker, Catherine Janke, Leonardo Nigro, Hanspeter Bader, Andre Meyer, Julie Bräuning, Roland Bonjour.
Crew:Producers: Academy of Media Arts, Blush Films, Swiss Television - Screenwriter: Reto Caffi & Philippe Zweifel - Editor: Thomas Bachmann - Cinematographer: Piotr Rosolowski - Original Score: Ivo Ubezio, Daniel Jakob, Oli Kuster - Sound: Marc von Stürler - Sounddesign & Mix: Andreas Hildebrandt
Sales:Ingo Grell, Sales Agent, Hamburg - Germany - T: +494039106319 - F: +494039106320
Email:sales@shortfilm.com
Synopsis
A department store security guard is secretly in love with a clerk in the store's bookshop. When he witnesses a seeming rival being attacked in the train, he gets off instead of helping him. Not being able to deal with his bad conscience, his formerly controlled life breaks down.
Trailer
About the director
Reto Caffi was born 1971 in Zürich. Reto Studied English literature and journalism at the university of Fribourg, Switzerland. He has worked as film journalist for print, radio and for Swiss National Television SFTV. His short films have won over 30 awards at festivals and were shown in cinemas and on television.
Related links