1/1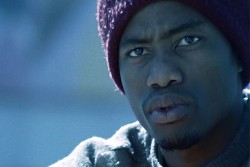 ---
JOBURG
East Coast Premiere
Director: Thabo Wolfaardt
South Africa, 2007, 22 min
Shooting Format:Super 16
Festival Year:2008
Category:Narrative Short
Cast:Nqobi Duma, Tessa Juber, Kabelo Thai, Moagi Modise, Warren Rees, Sonia Esguiera
Crew:Producers: Mpho Osei-Tutu, Melanie Blair - Screenwriter: Thabo Wolfaardt, Mpho Osei-Tutu - Editor: Thabo Wolfaardt - Cinematographer: Quyen Tran - Original Score: Nora Kroll-Rosenbaum - Sound: Phil Vo
Sales:Thabo Wolfaardt, Director - Los Angeles, CA 90065 - T: 310-663-9070
Email:thabofilm@gmail.com
Synopsis
A young newspaper vendor struggles to care for his ailing brother. A pregnant woman discovers a terrible secret about her fiance. At the height of their desperation, these two worlds collide in a life-altering event.
Trailer
About the director
Thabo Wolfaardt earned a BA in Literature and History from New York University and his MFA in Directing at UCLA Film School. At UCLA, Thabo received the MPAA Award, the Carl David Fellowship, the Mary Pickford Award, and the prestigious Collin Higgins Screenplay award. He also won Best Documentary at the 2006 UCLA Film Festival for his film SOUTH AFRICA'S NEW APARTHEID. JOBURG is Thabo's MFA thesis film.
Notes
Director Thabo Wolfaardt will be available for Q&A after the screening.
Related links