Latest News: 2009 Oscar Winner! - Best Live Action Short
1/1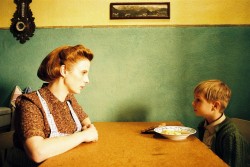 ---
TOYLAND
(SPIELZEUGLAND)
East Coast Premiere
Director: Jochen Alexander Freydank
Cast:Julia Jäger, Cedric Eich, Tamay Bulut Ötzvatan, Torsten Michaelis, David C. Bunners
Crew:Producer: Jochen Alexander Freydank - Screenwriter: Johann A. Bunners, Jochen Alexander Freydank - Editor: Anna Kappelmann - Cinematographer: Christoph "Cico" Nicolaisen - Original Score: Ingo Frenzel - Sound: Martin Hertel
Sales:Jochen Alexander Freydank - Mephisto Film, Berlin, Germany - T: +49 30 4424241 - F: +49 30 4424241
Email:info@mephistofilm.de
Synopsis
Germany 1942: In order to protect her son Marianne Meissner tried to make him believe that the Jewish neighbours are going on a journey to "Toyland". One morning her son has disappeared - the Jewish nighbours too. TOYLAND is a film about guilt, responsibility, small and big lies.
About the director
Jochen Alexander Freydank was born 1969 in East Berlin. He directed fringe theater, commercials and short films. He started his film career as first assistant director and editor before he became a screenwriter for TV an Film. At present he works as a producer of a TV series and prepares his first feature film as a director.
Notes
Director Jochen Alexander Freydank will be available for Q&A after the June 2nd screening.
Related links