1/1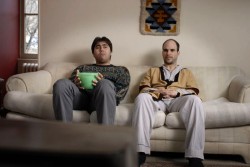 ---
THREE BEANS FOR GEORGE
US Premiere
Cast:Michael Bien, Greg Thomas, Willie Anicic
Crew:Producers & Screenwriters: Sean Anicic and Greg Thomas - Editor: Graham Chisholm - Cinematographer: Jason George - Original Score & Sound: David Sorbara
Sales:Sean Anicic - BIG!pictures/Partners Film Company, Toronto, Ontario, Canada - T: 416 869 3500
Email:seananicic@yahoo.com
Synopsis
This whimsical yet darkly comedic tale tells the story of a man who trades the dusty remains of a friend for a handful of beans in an attempt to bring his pal back from the other side.
Trailer
About the director
Sean Anicic is a commercial director based out of Partners Film in Toronto. In the short four years that he has been directing he has shot over 75 television commercials for some of the largest clients around the world. When he is not in production on a spot he is most likely shooting darkly comedic narrative work - past films have screened at Toronto International Film Festival and Cannes.
Notes
Director Sean Anicic and Editor Graham Chisholm will be available for Q&A after the screening.
Related links