1/1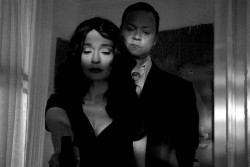 ---
ABLE DANGER
US Premiere
Cast:Elina Lowensohn, Adam Nee, Dave Coburn, Michael Burg, Tamara Knausz
Crew:Producers: Paul Krik, Katharina Lang, Ari Krepostman - Screenwriter: Paul Krik - Editor: Paul Krik & Roberto Serrini - Cinematographer: Charles Libin - Original Score: Michael Montes, John Roome, Alexander Schiebel - Sound: George Lara - Concept Director: Noah Ross - Art Director: Martina Nevermann, Willa Armbruster, Jose Barth Torres
Sales:Paul Krik - T: 917.664.6664
Email:paul@abledangerthemovie.com
Synopsis
Thomas Flynn, the idealist owner of a left-leaning radical cafe-bookstore and the quixotic publisher of a hard-hitting 9/11 conspiracy expose, finds himself entangled with a mysterious Eastern European beauty, Kasia, who is on the run from the architects of a global 9/11 cover-up, in this contemporary take on classic film noir. When Thomas is implicated in the murder of his friend and employee, he's forced to unravel Kasia's complex web of lies while attempting to fight his natural attraction to her. As it turns out, Kasia possesses the smoking gun that proves the identities and methods of the real architects of 9/11, and Thomas is willing to risk everything to expose the truth.
Trailer
About the director
Paul Krik has been editing national TV commercials for 15 years and living in Brooklyn for five. When Bush won the last election he was either going to move to Amsterdam or make a movie that would change America. He made "Able Danger."
Filmmaker's note
The film was shot in Brooklyn and is in part based on the work of Sander Hicks and his revolutionary Brooklyn based cafe-bookstore, Vox Pop.
Notes
Paul Krik will be available for Q&A after the screening.
Related links