1/1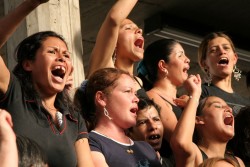 ---
THE CROWN
(La Corona)
Director: Isabel Vega & Amanda Micheli
Crew:Editor: Carla Gutierrez, Luis Colina - Original Score: Camara Kambon
Sales:Isabel Vega, Director - T: (917) 847-1449
Email:icvega@gmail.com
Synopsis
The contestants in this beauty pageant are thieves, murderers, and guerillas. The runnerup wipes her tears with a tattooed hand when the tiara is not placed on her head-and after the winner is crowned queen, all are taken back to their cells. Set in the women's penitentiary in Bogotá, Colombia, The Crown is a character-driven documentary that follows four inmates competing in the annual pageant.
Trailer
About the director
Amanda Micheli - Amanda Micheli is an award-winning filmmaker with more than a decade of experience as both a director/producer and a cinematographer. Her first film, Just for the Ride, won a Student Academy Award and an IDA student award and premiered on PBS's P.O.V. in 1996. Her second film, Double Dare, premiered at the Toronto International Film Festival and won the Audience Award for best documentary at the AFI Film Fest. It was broadcast on Independent Lens and had a limited theatrical release. Micheli collaborates with other filmmakers as well as directing her own projects.

Isabel Vega - Born in Colombia, Isabel Vega moved to the United States at the age of seven and received her BA in film studies from Wesleyan University. She got her start as an editor, assistant director, and associate producer on documentary projects for HBO, Lifetime, Bravo, and FX as well as numerous national commercials. In 2005, Vega's short film First Kiss premiered at the Tribeca Film Festival. She coproduced the second-season premiere episode of Morgan Spurlock's 30 Days and was an associate producer on Thin, which premiered at Sundance in 2006, as well as HBO's global-warming documentary, Too Hot to Not Handle. Currently, Vega is codirecting the documentary series I Can Change the World with Academy Award winner Maryann Deleo.
Related links