1/1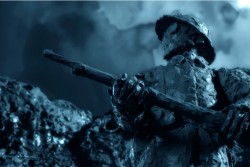 ---
THE DAY OF GLORY...
(Le Jour de Gloire...)
US Premiere
France, 2007, 7 min
Festival Year:2008
Category:Animation
Crew:Producer: Jean François LE CORRE - Screenwriter: Bruno COLLET - Editor: Mathieu COURTOIS - Cinematographer: Fabrice RICHARD - Original Score: Olivier MELLANO - Animation : Xavier TRUCHON & Julien LECONTE - Puppets : David ROUSSEL & David THOMASSE
Sales:Jean François Le Corre, Producer, Rennes, France - T: +33 299 65 00 74
Email:vivement-lundi@wanadoo.fr
Synopsis
The night before the offensive, a soldier hides in the bottom of an underground. Outside, the war shakes the ground and the man prepares himself with the inescapable... In this stop motion animated film, the bodies of the soldiers become again matter, alloy of earth and steel, curdled in death for eternity.
Trailer
About the director
Bruno Collet was born in 1965 in Saint-Brieuc, France. After receiving his degree at the Fine Arts Academy at Rennes, he worked on sculpture and 3D objects exhibitions. His interest in animation developed while he worked for short films and video clips as a decorator. "Le Dos au Mur", his first animation short was produced in 2001 and awarded in International Critic's Week in Cannes.
Related links