1/1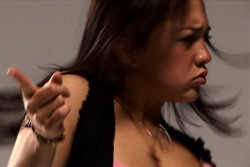 ---
DANCE LIKE YOUR OLD MAN
US Premiere
Director: Gideon Obarzanek & Edwina Throsby
Cast:Meaghan McHenry, Sara Black, Alexandra Dillon, Bec Reid, Penelope Bartlau, Ros Warby
Crew:Producers: Chunky Move in association with Chequerboard productions - Editor: Simon Njoo - Cinematographer: Cordelia Beresford - Original Score: David McCormack & Michael Lira at Supersonic - Sound: sound editor: Lachlan Carrick - On-line Editor: Oliver Clifton - Final Mix: Wes Chew at Supersonic
Sales:Rachael Azzopardi, Executive Producer - Chunky Move, 111 Sturt Street Southbank VIC 3006, Australia - T: +61 3 9645 5188 - F: +61 3 9645 5199
Email:kimberley@chunkymove.com.au
Synopsis
Six women imitate their dads' dancing in a film about fathers as seen through the eyes of their daughters. The unseen men come to life through the dances and reflections of their children. The film is directed by Gideon Obarzanek, the artistic director of Melbourne's flagship dance company, Chunky Move and documentary maker and television producer, Edwina Throsby, and shot by Cordelia Beresford. The six subjects, including professional dancers Ros Warby, Bec Reid and Sarah Black, responded to a call for women who had something to say about their dad's dancing style.
Trailer
About the director
Gideon Obarzanek (b. 1966 Melbourne) is a leading figure in Australian contemporary dance, most notably as Artistic Director of Victoria's flagship contemporary dance company, Chunky Move, which he founded in 1995. Since then the company has created many dance productions performing at numerous cities and festivals around the world. Gideon originally studied at the Australian Ballet School and danced with the Queensland Ballet and the Sydney Dance Company before working as an independent performer and choreographer with various dance companies and independent projects within Australia and abroad. Most recently Gideon has received a New York Bessie award for Outstanding Choreography / Creation for Tense Dave and two Melbourne Green Room Awards for Original Choreography and Concept and Realisation for I Want to Dance Better at Parties. In 1999 he received a Mo award for best choreography for Bonehead and the Prime Minister's Young Creative Fellowship in 1996. Dance Like Your Old Man marks Gideon's debut as a film Director.
Edwina Throsby (b. 1966 Sydney) is a documentary director and television producer. She has worked as a producer/director/reporter on television programmes as diverse as Four Corners, Dateline, The Dream with H.G. and Roy (at the Sydney, Salt Lake and Athens Olympics) and Media Watch. She has directed two full-length documentaries, Peter Berner's Loaded Brush and Opera Australia's Golden Jubilee. Loaded Brush has been screened in several international film festivals, including the prestigious International Festival of Films on Arts (FIFA) in Montreal. Other festivals and awards include a screening in the forum at the Cannes Film Festival in 2000 of her AFTRS graduation film A Sense of Smell. This short film also won the International Documentary Association's Prize for the best student film in the same year. She recently established a production company, Chequerboard Productions, with multi-award winning producer Robin Hughes, and they are currently developing a slate of documentaries.
Related links