1/1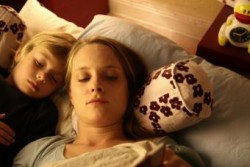 ---
ON THE SAFE SIDE?
(Auf Nummer Sicher?)
US Premiere
Cast:Anne Ratte Polle, Ralf Ditrich, Bernhard Schuetz, Margarita Broich, Christoph Luser
Crew:Producer: Jonas Dornbach - Screenwriter: Henner Schulte-Holtey - Editor: Dunja Campregher - Cinematographer: Matthias Schellenberg
Sales:Kathrin Elsaesser, ZDF, Das kleine Fernsehspiel, 55100 Mainz, Germany - T: +49 6131 702331
Email:elsaesser.k@zdf.de
Synopsis
Journalist Sandra Harkow is producing an Infomercial for the Biometric-Lobby. It is to be presented in front of important State and Business Representatives. The surprising encounter with a putative Timetraveler changes her perspective. She begins to dig deeper, and brings to light astonishing and frightening facts about the State Security Policys. Suddenly there is plenty at stake; lots of money, our safety, and last but not least our future. "On the Safe Side?" is a feature film with documentary elements.
Trailer
About the director
Before studying filmmaking at the Berlin Film School, David Dietl (b. 1979 in Los Angeles) worked in different Deparments on several Feature films, Documentaries and Commercials.
Filmmaker's note
The introduction of biometric data, such as digital photographs and fingerprints, on passports and ID's will have a big impact on our future. The German Goverment implemented European Laws in advance and introduced this technologie in the year 2005. Other European and Western countries will soon follow. This is only the beginning of several measures being established to increase security. At the same time a infrastructure is created that makes surveillance and control an urgent topic.
Notes
Director David Dietl and Producer Jonas Dornbach will be available for Q&A after the June 8th screening.
Related links