1/1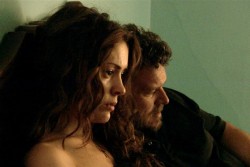 ---
THE BLUE HOUR
NY Premiere
Cast:Alyssa Milano, Emily Rios, Derrick O'Connor, Yorick Van Wageningen, Clarence Williams III
Crew:Producers: Lynnette Ramirez & Brian Knappmiller - Screenwriter: Eric Nazarian - Editor: Helen Hand & Emily Koonse - Cinematographer: Sam Levy - Original Score: Aldo Shllaku - Sound: Jeremy Peirson
Sales:Lynnette Ramirez, Producer - Blue Hour, LLC, 6740 N. Oak Avenue, Arcadia, CA 91007 - T: 310-780-5768 - F: 626-574-0654
Email:lynnette@vidafilms.com
Synopsis
In "The Blue Hour," several strangers in Los Angeles weave their stories of loss and hope, not knowing that their lives have brushed up against each others in small but sometimes profound ways. A multi-ethnic ensemble drama, the film explores the connections between a Mexican graffiti muralist, an Armenian camera repairman, an African- American Blues guitarist and an English pensioner living near the Los Angeles River. Happy is a talented teenage graffiti muralist with a passion for spray paint and Hip Hop. Her playground is the concrete banks of the Los Angeles River. While painting a mural of her trademark Payasa, a sad-faced Lady Clown, she encounters Sal, a mentally challenged homeless man who attempts to make contact with her. Unable to communicate with Happy, Sal then crosses paths with Avo, a vintage camera repairman living with his wife Allegra on the East Bank of the river. Their apartment overlooks Happy's Payasa mural near the area where their 4-year old daughter Heidi recently drowned. Since Heidi's death, Avo and Allegra have not spoken. As Happy toils on the Payasa, Avo attempts to reconcile with his wife in the wake of the family tragedy. A block away from Avo's apartment, Ridley is a struggling blues guitarist staying in an old hotel by the river. He has returned temporarily to Los Angeles to care for his mother. One night, Ridley hears an enigmatic voice coming from somewhere inside the hotel. Haunted by its mysterious presence, Ridley sets out to discover the source of the voice, running into Sal in the wake of a hit-and-run accident. Humphrey is an aging pensioner living in an apartment overlooking the 'islands' in the river. One morning he wakes up to the sound of Sal screaming on the sidewalk. Having recently lost his wife Ethel, Humphrey spends his days eating lunch by her grave, a few feet from Heidi's resting place where he sees Allegra. Unsure when his time will come, Humphrey readjusts to everyday life, crossing paths with Happy as he wanders the riverside neighborhood. Connecting each character peripherally through the Los Angeles River, The Blue Hour explores the delicate ties and common humanity among strangers in a seemingly disconnected landscape.
Trailer
About the director
Eric Nazarian is a graduate of the University of Southern California's School of Cinema-Television. Born in Armenia and raised in Los Angeles, Eric worked at his father's photo lab throughout high school, eventually becoming a staff photographer for AIM magazine in college. At USC film school he majored in Film Production. In his senior year he wrote "Land of Plenty," a post-war screenplay about child war survivors based on his experiences as a photojournalist in the Southern Caucuses that won the AFFMA Screenplay Award. He is currently working on a law enforcement saga and an international drama about globalization. "The Blue Hour" is Eric Nazarian's first feature film as writer-director.
Notes
Director Eric Nazarian will be available for Q&A after the screenings.
Related links