Latest News: UPDATE: The Unidentified now available on DVD and on Amazon Video
1/1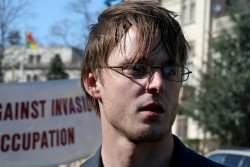 ---
THE UNIDENTIFIED
World Premiere
United States, 2008, 113 min
Shooting Format:MiniDV
Festival Year:2008
Category:Narrative Feature
WINNER: Best New Director
Cast:Jay Sullivan, Erin Ecklund, Lauren Shannon, Robert O'Gorman, Kathryn Rossetter
Crew:Producers: Tim O'Neill, Stephen Gifford, Elyse Pasquale - Screenwriter: Kevan Tucker - Editor: Tim O'Neill - Cinematographer: Robert J. Carnevale - Original Score: Erik White - Sound: Owen Granich-Young - Costumes: Skyler Schrempp
Sales:Tim O'Neill, Producer - T: 925-787-9068
Email:kevan.tucker@gmail.com
Synopsis
Estlin, a young idealist, is thrust into the real world without the protective bubble of college he's grown accustomed to. His job at a local newspaper doesn't promote social change and Brooke, his political partner in crime, is leaving Brooklyn for Ohio. Frustrated and lost, he falls for Sophie, a whimsical artist with an optimistic view of life. As their relationship grows, Estlin discovers a dark, secretive undertone to Sophie's simplistic take on the world. As Estlin pursues the truth, their relationship crumbles, plunging him further into confusion and isolation. With seemingly nowhere else to go, he heads to a protest in Washington, DC. But as he searches for the remains of 1960s idealism, he must come to terms with what has been lost, what still remains and where he must go from here.
Trailer
About the director
Kevan Tucker was born and raised in Brooklyn. He showed early promise as a filmmaker when he won the prestigious ARTS award in the nationwide NFAA competition for his short, Silent Film. He experimented with higher learning at Hampshire College, but after three years he and the school had a mutual breakup and he returned to his native city. When he was 22 years old, he co-founded Floodgate Features with Tim O'Neill and Stephen Gifford and began production on The Unidentified, which is his first feature film.
Notes
Cast & Crew will be available for Q&A after the screening.
Related links