1/1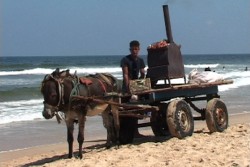 ---
GAZA SOUVENIRS
World Premiere
France, 2008, 46 min
Shooting Format:DVCam
Festival Year:2008
Category:Documentary Short
Crew:Producer: Damien Mc Donald, Frédéric Malegue - Editor: Sabine El Chamaa, Lise Hernandez - Cinematographer: Olga Widmer - Original Score: Alban Clot - Sound: Samuel Albaric
Sales:Damien Mc Donald, Producer - Goyave Production, 75018 Paris France - T: +33 158591030
Email:dmcdonald@goyave-production.com
Synopsis
In a succession of phone calls between a young Palestinian, Wissam, and a young French filmmaker, Sam, they bring back memories of a phantasmagorical Gaza, where the bakers seduce the girls and the vegetable salesmen take us into the fabulous world of the Djinns. The lifeguards on the beach remind us with cheerfulness about a Gaza that is too often described on TV as a world of suffering and death. "The easiest way of making the town's acquaintance is to know how the people in it work, how they love, and how they die" - Albert Camus.
About the director
Samuel Albaric completed his studies in Fine Arts in Cergy and received his diploma with the highest honors for his thesis film about the Palestinians in Egypt. He currently works as a photographer for several social periodicals and an iconographer for the Union Sociale journal. His mastery of various camera and sound equipment allowed him to launch his filmmaking career with relative ease. To date, he has directed three documentaries dealing with the Palestinian issue as well as several commissioned films for the Abbé Pierre foundation. Invested in the Palestinian cause, he has made several trips to Palestine and Israel with the solidarity movements since 2002. He sheds light on feelings long overlooked by the media, most particularly tenderness and love.
Notes
Director Samuel Albaric will be available for Q&A after the screenings.
Related links