1/1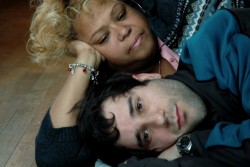 ---
CENTER OF THE UNIVERSE
US Premiere
United States, 2008, 14 min
Shooting Format:Super 16
Festival Year:2008
Category:Narrative Short
Cast:Yuval Boim, Yvette Mercedes, Junes B Zahdi, Tara Howard, Tom Webb
Crew:Producer: Sally Kewayosh - Screenwriter: Jarrah Gurrie - Editor: Jarrah Gurrie & Caroline Oliveira - Cinematographer: Zelmira Gainza-Bemberg - Original Score: Simon Anson & Winterpark - Sound: Jarrah Gurrie & Mike Dillenberger - Production Designer: Shawn Fillion
Sales:Jarrah, Gurrie - Fourare Films, Brooklyn NY 11217 USA - T: +16467081387
Email:jarrahg@gmail.com
Synopsis
Haunted by memories of a broken relationship, Oscar decides to join a cuddle group. Here he meets Aida, a woman determined to solve his problems.
Trailer
About the director
Jarrah Gurrie is an Australian film-maker currently based in New York City. He grew up on the Victorian surfcoast before moving to Melbourne to attend Art School. Jarrah is an award winner at several short film festivals - his films to date have had a high presence on the International Gay and Lesbian Film Festival circuit. His last short, "Cabalerno "was featured by MTV/Logo Television's The Click List: Best in Short Film and is also included on the Boys Briefs 3 (USA) compilation and Courts Mai Gay 12 in France. Jarrah is currently completing his Graduate studies in Film at NYU's Tisch School of the Arts. He is also working on music videos and developing feature length projects.
Notes
Director Jarrah Gurrie & Producer Sally Kewayosh will be available for Q&A after the screening.
Related links