1/1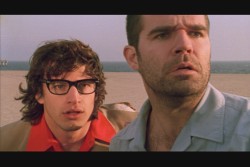 ---
NATURE OF THE BEAST
United States, 2007, 16 min
Shooting Format:Super 16
Festival Year:2008
Category:Narrative Short
Cast:Andy Samberg, Rob Delaney, James Vogel, Niko Varela, Professor Eduardo Alvarado
Crew:Producer & Screenwriter: Nate Pommer - Editor: Jorge Azul - Cinematographer: Burke Heffner - Original Score: Chicha Libre! - Sound: Joram Schwartz
Sales:Mach Zillion, Brooklyn NY 11215, USA - T: 917-951-3024
Email:nate_pommer@mac.com
Synopsis
Darryl is an ex-con fresh out of the joint and looking to stay out of trouble. Suddenly his old pal Leo shows up, on the run and needing a place to crash. Soon enough, Darryl's dealing with a marauding pink Walrus looking for payback-- and it's up to the increasingly berserk Leo to bail him out. Nature of the Beast is a Psychedelic Comedy starring Rob Delaney and Saturday Night Live's Andy Samberg.
Trailer
About the director
Nate Pommer is a Brooklyn-based filmmaker. Past shorts include Monkey Vs. Robot!!, Don't Trust Whitey, and Eye Am Your Eye, as well as music videos for James Kochalka Superstar, Galactic, and Gogol Bordello. His work has screened on MTV and at Slamdance, NY Underground Film Fest, and many more festivals worldwide. His latest film, "Nature of the Beast" won best short at the 2007 Coney Island Film Festival.
Notes
Director Nate Pommer will be available for Q&A after the screenings.
Related links