1/1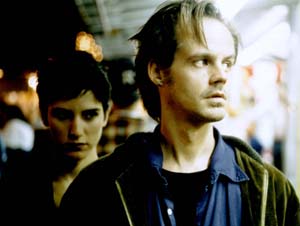 ---
HABIT
Director: Larry Fessenden
United States, 1997, 112 min
Shooting Format:35mm
Festival Year:1999
Category:Narrative Feature
WINNER: Best Editing and Best Actor Male
Cast:LARRY FESSENDEN ~ MEREDITH SNAIDER ~ AARON BEALL PATRICIA COLEMAN ~ HEATHER WOODBURY ~ JESSE HARTMAN ~
Crew:costumes LOREN BEVANS art JOHN ARLOTTO grip/electric ERIC OGDEN assistant camera JAY SILVER music score GEOFFREY KIDDE sound design BILL CHESLEY mix TED GANNON production manager STEPHANE MITCHELL associate producer SUSAN A. STOVER director of photography FRANK DeMARCO producer DAYTON TAYLOR writer, director, editor LARRY FESSENDEN
Synopsis
Autumn in New York. Sam has broken up with his girlfriend and his father has recently died. World-weary and sloppy drunk, he finds temporary solace in the arms of Anna, a mysterious woman who draws him away from his friends and into a web of addiction and madness.
About the director
Fessenden grew up in a well-to-do Upper East Side family. He went to prep school at Andover, didn't graduate, got his G.E.D., and enrolled at NYU, where he was torn between filmmaking and acting. In 1985, he set up Glass Eye Pix, an indie production company. Under the Glass Eye banner, he directed The Impact Addict Videos (a collaboration with high-risk performance artist, David Leslie), Hollow Venus (1989), a one-hour video based on actress Heather Woodbury's experiences as a go-go dancer, and No Telling (1991), a smart, spare, skewed update of the Frankenstein story.
Fessenden is currently in post production on WENDIGO, the third feature in his trilogy of philosophical horror films.
Related links