1/1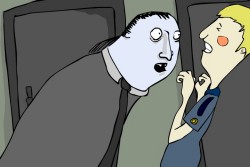 ---
VINCENT THE SECURITY GUARD
Director: Ashley Holzwasser
United States, 2008, 2 min
Festival Year:2009
Category:Animation
Cast:Vlad Backle, Damon Maulucci
Crew:Producer: Casey Safron - Sound: Chris Russomanno
Sales:Animation Block - PO Box 289, NY NY 10159
Email:info@animationblock.com
Synopsis
Vincent the Security Guard gives the new guy a disturbing office tour.
About the director
Ashley Holzwasser enjoys board games, the smell of garages, sarcasm, and Degrassi the Next Generation. Her dislikes include, cat litter duty, misuse of the word "good", and being woken up. AshleyLives in Brighton, Massachusetts.
Notes
Producer Casey Safron and Director, Ashley Holzwasser will be available for Q&A after the screenings.
Related links