1/1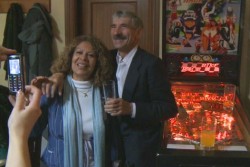 ---
WAITING FOR WOMEN
(Esperando Mujeres)
East Coast Premiere
Director: Estephan Wagner
England, 2008, 35 min
Shooting Format:HDCAM
Festival Year:2009
Category:Documentary Short
Cast:Gregorio Chimeno
Crew:Editor: Lawrence Huck - Cinematographer: Estephan Wagner - Original Score: Roger Goula - Sound: Jeet Thakrar - Mentor: Victor Kossakovsky
Sales:Estephan Wagner, Director/Producer - WagnerDocs, 55 Malvern Road E8 3LJ London UK - T: 0 44 78527 15191 - F:
Email:filmeditor@web.de
Synopsis
In the remote Spanish village of Riofrio, most of the women left years ago. Only the men remain, without the slightest possibility to find a relationship. Not able to bear this situation any longer, they organize a busload of single women to come from Madrid into their loneliness. Their ideal aim is to fall in love. But having never learned how to deal with women, beside their mothers and some motorway prostitutes, their event goes in some unexpected directions. "Waiting for Women" is a heart-warming documentary about love and solitude, about gender, migration and hope.
About the director
Chilean/German documentary filmmaker Estephan Wagner studied Theatre at the International School of Image and Gesture in Santiago, Chile, and worked as a theatre actor and director. In 1999 he moved to Germany to work as an AP and in post production and to study film editing at the Northern German Broadcaster. He then moved to France to work as an editor for 'ARTE' and edited several documentaries as a freelancer. In 2007 he moved to London to make the Documentary Direction MA at the NFTS. He later worked as 1st Assistant Director with Victor Kossakovsky. He is currently working on a feature length documentary for the BBC and is directing a prime time documentary for Channel 4.
Related links