1/1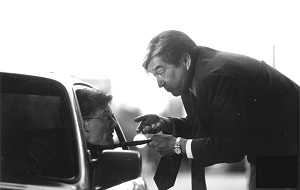 ---
BAD MONEY
US Premiere
Canada, 1999, 95 min
Shooting Format:35mm
Festival Year:2000
Category:Narrative Feature
Cast:Graham Greene, Karen Sillas, Stephen Spender, Alisen Down, Joe Turvey, Tamsin Kelsey
Crew:Producers: James Gottselig, John Hazlett - Screenplay: Blake Brooker, Michael Gregory, John Hazlett - Cinematographer: Alex Vendler - Editor: Michael Dowse - Music: Schaun Tozer - Production Company: Red Devil Films Ltd. 201, 1448 17 Avenue SW Calgary, AB T2T 0C8
Sales:Red Sky Entertainment 635, 375 Water Street Vancouver, BC V6B 5C6
Synopsis
George has a gun, Jan has a butcher's knife and Murray and Stick are armed with attitude. The four main characters of "Bad Money" are ready to do whatever it takes to survive financial ruin. It's a jungle where children carry cell phones, eating disorders are elegant and domestic animals go from pet to plate. Welcome to an economy where above the knee amputations mean better welfare benefits, and having a relative in the sex industry might be just the "in" you need to start a new career. Get ready to rodeo, because in bankruptcy, there are no bad people, just bad money.
About the director
John's career development has included "dry land" farming, raising hogs, construction, carpentry, guerilla art projects, the now legendary experimental jazz group Caboose of Fear, studying film at Montreal's Concordia University, producing movies (The Suburbanators, Kitchen Party), film festival drinking, being a Slamdance jury member, directing and mouthing off. He lives with Sherry with whom he shares the care of a young dog named Sophie. He will direct again.
Filmmaker's note
Can all social relationships be expressed in monetary terms? Probably not, but there sure is a lot of financial subtext in our lives. Under the surface of almost every exchange lies the subtle and sometimes not so subtle tug of commercial gain. Are nice average people capable of succumbing to these undercurrents, capable of doing harm in the name of so-called survival? They say it's the quiet ones you have to look out for; perhaps the similar is true with nice average people. Regardless, it is no laughing matter.
Related links