1/1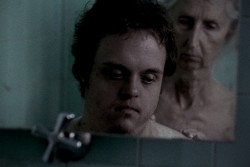 ---
WUNDERKAMMER
NY Premiere
Director: Andrea Pallaoro
United States, 2008, 13 min
Shooting Format:Super 16
Festival Year:2009
Category:Narrative Short
Cast:Lilia King, Josh Perry
Crew:Producer: Kenhalo Millan - Screenwriter: Andrea Pallaoro & Orlando Tirado - Editor: Andrea Pallaoro - Cinematographer: Thomas Burns - Sound: Kari Seekins
Sales:Andrea Pallaoro, Director - Keyhole Productions, Los Angeles CA 90046 - T: 310 909 9502
Email:apallaoro@gmail.com
Synopsis
An elderly woman and her son struggle to coexist in a house that shelters a spectacular menagerie of birds. Surrendering to their codependence, inside a world that bears no exit, they go about their bedtime ritual resisting and succumbing to each other's needs. Within the everydayness of their gestures and movements lurks a secret, and the anticipation of what might come is the dawning question.
About the director
Andrea Pallaoro is a film and theater director whose recent work investigates the human perception of alienation and its relationship to intimacy. He is interested in further exploring the complexities of human behavior through the language of cinema and through the art of image making. Andrea holds an MFA in Film Directing from the California Institute of the Arts. He was born in Trento, Italy and currently resides in Los Angeles, CA, where he is working toward the realization of his next film projects.
Notes
Director Andrea Pallaoro will be available for Q&A after the screenings.
Related links