1/1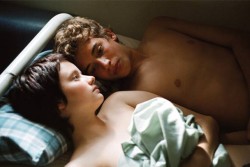 ---
PRIVATE LESSONS
(Elève Libre)
US Premiere
Director: Joachim Lafosse
Belgium, 2008, 105 min
Shooting Format:35mm
Festival Year:2009
Category:Narrative Feature
Cast:Jonas Bloquet, Jonathan Zaccaï, Yannick Renier, Claire Bodson, Pauline Etienne
Crew:Executive Producer: Jacques-Henri Bronckart - Producer: Versus Production, Mact Productions, Ryva, RTBF - Screenwriter: Joachim Lafosse and François Pirot - Editor: Sophie Vercruysse - Cinematographer: Hichame Alaouié - Sound: Benoit De Clerck
Sales:Martin Caraux, Acquisitions and Festivals - Film Distribution, - T: 0033 153103399
Email:caraux@filmsdistribution.com
Synopsis
Jonas, a teenager who is doing badly at school, meets Pierre, a man in his thirties, who is moved by his situation and takes him under his wing. On the strength of this special bond, Jonas drops out of school. Incapable of setting limits on their relationship, the cost of continuing his education keeps rising for Jonas. Can you learn when you are breaking the rules?
Trailer
About the director
Joachim Lafosse was born in 1975 in Brussels. His graduate film at IAD, the Belgian cinema school, was a short film called Tribu, which won awards in many festivals. Scriptwriter, director, playwright and theater director, he has worked on many projects, directing his first mid-length film in 2003 : Folie privée, which was also awarded many prizes. Between 2005 and 2006, he shot his first feature film, Ça rend heureux with Fabrizio Rongione and was already preparing for his next film. Private Property, with Isabelle Huppert and Jérémie and Yannick Rénier playing rival twin brothers was in competition at the Venice Film Festival in 2006. Private Lessons is his fourth feature film.
Notes
Producer Jacques-Henri Bronckart will be available for Q&A after the screenings.
Related links