1/1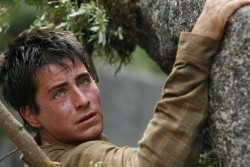 ---
THE TIMEKEEPER
World Premiere
Canada, 2009, 102 min
Shooting Format:35mm
Festival Year:2009
Category:Narrative Feature
Cast:Roy Dupuis, Craig Olejnik, Julian Richings, Gary Farmer, Wayne Robson and Stephen McHattie
Crew:Executive Producer: Lorraine Dufour - Producer: Réal Chabot, Dean English and Karen Powell - Screenwriter: Louis Bélanger and Lorraine Dufour - Editor: Lorraine Dufour - Cinematographer: Guy Dufaux - Original Score: Claude Fradette and Guy Bélanger - Sound: Marcel Chouinard, Richard Lavoie, Dean Giammarco and Bill Sheppard
Sales:Virginie Dubois - La Coop Vidéo, 1124, Marie-Anne street east - office 21, Montreal, Qc, Canada H2J 2B7 - T: (514) 521-5541 ext.0
Email:virginie.dubois@coopvideo.ca
Synopsis
In this film adapted from Trevor Ferguson's eponym novel, the year is 1964. Martin Bishop is 18. His recently deceased father has left him a good education and high moral principles. The bank has seized the family farm. Martin lands a job as a timekeeper on a Northwest Territories railway construction site. Under the watchful eye of a tyrannical foreman, the crew has 52 days to lay 52 miles of track, a lucrative endeavour it turns out. In this remote camp from where there is no escape, corruption is a way of life. The workers - a bunch of rag-tag idiots and thieves selected precisely for their defects - dare not complain. All but Martin, who will discover the not so clear-cut boundaries between good and evil.
Trailer
About the director
For the past twenty years, Louis Bélanger has been working with La Coop Vidéo de Montréal where he has made commissioned short films and contributed to documentaries, screenplays and feature film shootings. In 1998, he wrote and directed 'Post Mortem', his first feature film which has won numerous prizes around the world. In 2001, he co-directed with Isabelle Hébert 'Lauzon Lauzone', a documentary about filmmaker Jean-Claude Lauzon's life. In 2002, he directed 'Gaz Bar Blues', which won 3 prizes at the Festival des films du monde de Montréal. 'Le génie du crime', an adaptation of the play, Criminal Genius, by George F. Walker, was released in the fall of 2006. Louis is currently working in collaboration with Alexis Martin on his next feature entitled 'Demande à ceux qui restent' which should be shot this summer.
Notes
Director Louis Bélanger will be available for Q&A after the screening.
Related links