1/1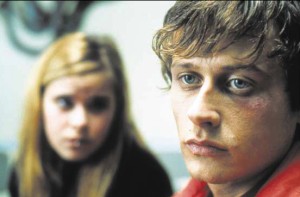 ---
GETTING MY BROTHER LAID
(Mein Bruder der Vampir)
East Coast Premiere
Germany, 2001, 94 min
Shooting Format:35mm
Festival Year:2002
Category:Narrative Feature
WINNER: Best Cinematography
Cast:Marie Luise Schramm, Roman Knizka, Hinnerk Schöne-mann, Julia Jentsch, Alexander Scheer, Barbara Stoll
Crew:Screenplay: Matthias Pacht - Director of Photography: Daniela Knapp - Editor Jens Klüber - Sound Design Angelo D'Angelico - Original Score Putte (Thorsten Puttenat) - Production Design Károly Pákozdy - Costumes Nicole Stoll - Casting Antje Krutz - Line Producer Mathias Schwerbrock - Production Manager Gabi Lins - Producers: Christian Hünemörder, Michael Jungfleisch, Nico Hofmann Executive Producer: Wolfgang Kerber, Gambit, Christian Rohde, teamWorx
Sales:Beta Cinema, Isabelle Palluaud - Robert-Bürkle-Str. 2 - D-85737 Ismaning - Tel.: +49-89-99 56 27 07 - Fax: +49-89-99 56 27 03
Email:isabelle.palluaud@betafilm.com
Synopsis
Josch, Mike and their younger sister Nic experience many ups and downs in their search for their first "big love". Josch (Roman Kni¡ zka) is the oldest of the three, a big fan of Dracula, and mentally handi-capped, a fact that may have a negative effect on his IQ, but certainly not on his friendly nature. Perhaps a bit too friendly at times, especially when he falls madly in love with Nadine, who happens to be the girlfriend of his brother Mike (Hinnerk Schönemann). Mike of course is not too thrilled about Josch's only wish for his birthday: to have sex with Nadine. Nadine is Mike's first real girlfriend, and he's a bit shaky about the relationship, and at the same time he feels a certain responsibility for his mentally challenged brother. Mike decides to give his virgin brother a different kind of introduction to the joys of love. His instruction in the art of finding satisfaction starts off in a harmless way, but soon leads to total chaos in an ominous mobile bordello district. And then there is Nic (Marie Luise Schramm), the youngest of the family and a real adolescent brat in the bud. She sees the world through the viewer of her digital camera, documenting what she doesn't understand, what fascinates her or what she's afraid of. Nic has fallen head over heels in love with Manu, the unchallenged lady's man at her school. He's the one to make a woman of her, she decides, but it seems that he doesn't want to have anything to do with her. At least, not for the moment . . .

GETTING MY BROTHER LAID is a poetic, grotesque comedy about the difficulties of an average family, the power of hormones, and the subtle difference between good and bad sex, says Sven Taddicken. For screenwriter Matthias Pacht the film is not only a funny declaration of love to his brother, who suffers from Down's syndrome, but also a hymn to family ties.
About the director
Sven Taddicken was born in 1974 in Hamburg. He has been studying Film Directing at the Baden-Württemberg Film Academy since 1996 and has won numerous awards, including the National Short Film Prize at Dresden 1999, the Main Prize at the Finnish festival Lappeenraanta, and the First Prize at Short Cuts Cologne 1999. He was also nominated for the Honorary Foreign Student Award/Student OSCAR 2000 for his film SCHÄFCHEN ZÄHLEN, which opened the Max Ophüls Festival Saarbrücken that same year. In 2000, he was awarded the renowned Caligari stipend from the Baden-Württemberg Film Academy. MEIN BRUDER DER VAMPIR is his feature debut.
Related links