1/1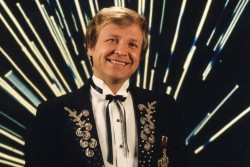 ---
THE MAN WHO WOULD BE POLKA KING
US Premiere
Director: Joshua von Brown & John Mikulak
United States, 2009, 70 min
Shooting Format:MiniDV
Festival Year:2009
Category:Documentary Feature
Cast:Greg Korin
Crew:Executive Producer: Joshua von Brown, John Mikulak - Producer: Joshua von Brown, John Mikulak - Co-Producer: Rebekah Rutkoff - Screenwriter: - Editor: Joshua von Brown - Cinematographer: John Mikulak - Original Score: MG Espar - Sound: Brian Langman
Sales:Joshua Brown - Orgoworld, LLC, Brooklyn, NY 11217 - T: 646 536-3611
Email:polkakingmovie@gmail.com
Synopsis
THE MAN WHO WOULD BE POLKA KING is an irreverent look at the rise and fall of Grammy-nominated polka music superstar Jan Lewan, whose defection from Poland to the West in the 1970's led to fame, fortune and an international Polka Empire. For over 30 years, the flashy showman wowed polka fans the world over, headlining massive concerts and hobnobbing with powerful figures like Donald Trump, George HW Bush and even Pope John Paul II. But when the King was hit with a beauty pageant scandal and a subsequent personal tragedy, Lewan's empire collapsed... and the polka world was stunned to learn of the greatest polka-related financial crime in history.
Trailer
About the director
An award-winning filmmaker based in Brooklyn, Joshua von Brown directed the underground narrative feature ALTAMONT NOW, winner of Best Director at the Atlanta Underground Film Festival and Best Narrative Feature from the Arizona Underground Film Festival. His documentary 50,000,000 JOE FRANKLIN FANS CAN'T BE WRONG profiled NYC TV talk show host Joe Franklin and aired on PBS. He received an M.F.A. in Film from NYU, where he was awarded the Martin Scorcese Prize for documentary. John Mikulak is an award-winning filmmaker and advertising creative executive. After years of Madison Avenue madness, he headed for the peace and tranquility of the Pennsylvania mountains to split logs and split time between advertising and filmmaking pursuits. Before learning that documentaries take "forever" to complete, John co-wrote and directed his first feature film, THE DEVIANTS, which was awarded a Panavision® Filmmaker's Grant. John received his MFA in Film from NYU's graduate film program.
Notes
Directors Joshua von Brown & John Mikulak will be available for Q&A after the screenings.
Related links