1/1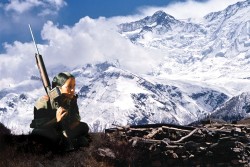 ---
THE SARI SOLDIERS
Crew:Producers: Julie Bridgham, Ramyata Limbu - Editor: Mona Davis - Cinematographer: Julie Bridgham, Dinesh Deokota, Kumar Shrestha - Original Score: Christopher James Thomas, Manose Newa
Sales:Kristen M Fitzpatrick, Distribution Manager - Women Make Movies 462 Broadway, Ste 500, New York, NY 10013, United States - T: 212-925-0606 x 305 l 212-925-1952
Email:kfitzpatrick@wmm.com
Synopsis
Filmed over three years during the most historic and pivotal time in Nepal's modern history, The Sari Soldiers is an extraordinary story of six women's courageous efforts to shape Nepal's future in the midst of an escalating civil war against Maoist insurgents, and the King's crackdown on civil liberties. When Devi, mother of a 15-year-old girl, witnesses her niece being tortured and murdered by the Royal Nepal Army, she speaks publicly about the atrocity. The army abducts her daughter in retaliation, and Devi embarks on a three-year struggle to uncover her daughter's fate and see justice done. The Sari Soldiers follows her and intimately delves into the extraordinary journey of these five other brave women on opposing sides of the conflict, through the democratic revolution that reshapes the country's future.
Trailer
About the director
Julie Bridgham is a Sundance Institute Documentary Fellow, and the Director and Producer of the award-winning documentary, THE SARI SOLDIERS, for which she received the 2008 Nestor Almendros Prize for courage and commitment in human rights filmmaking. Over the past six years, she has lived for extended periods in Nepal where she produced and directed numerous documentaries including several documentaries for the United Nations and the films INDENTURED DAUGHTERS, a documentary on Nepali girls sent into bonded labor, as well as the films HOPE IN THE HIMALAYAS and CHILDREN OF HOPE for the Nepalese Youth Opportunity Foundation. She has produced and directed numerous documentary series that have taken her around the globe, including "Exotic Islands", and the series "Royal Families of the World," as well as documentary series for the BBC, the Discovery Channel and TLC. Before working in documentary television, she worked in Costa Rica as a Project Officer for an environmental project with the United Nations, and in Bolivia as a researcher for a human rights organization.
Notes
Director Julie Bridgham will be available for Q&A after the screenings.
Related links