1/1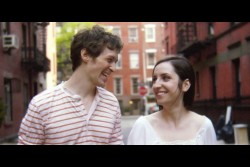 ---
BREAKING UPWARDS
NY Premiere
WINNER: Grand Chameleon Award and Best Narrative Feature
Cast:Julie White, Zoe Lister-Jones, Olivia Thirlby, Andrea Martin, Peter Friedman, Pablo Schreiber, La Chanze, Heather Burns, Tate Ellington, Daryl Wein
Crew:Executive Producer: Bill Lister - Producer: Daryl Wein, Zoe Lister-Jones - Screenwriter: Daryl Wein, Zoe Lister-Jones, Peter Duchan - Editor: Daryl Wein - Cinematographer: Alex Bergman - Original Score: Kyle Forester - Sound: Allison Jackson
Sales:Daryl Wein, Filmmaker
Email:breakingupwards@gmail.com
Synopsis
Breaking Upwards explores a young, real-life New York couple who, battling codependency, decide to intricately strategize their own break up. Based on an actual experiment devised by director/actor Daryl Wein and actress Zoe Lister-Jones, the film loosely interprets a year in their lives exploring alternatives to monogamy, and the madness that ensues. An uncensored look at young love, lust, and the pangs of codependency, 'Breaking Upwards' follows its characters as they navigate each others' emotions across the city they love. It begs the question: is it ever possible to grow apart together?
Trailer
About the director
Breaking Upwards marks Daryl Wein's narrative feature film debut. Last year, he directed and produced Sex Positive, which won the Grand Jury Prize for Best Documentary at L.A. Outfest, and was an official selection at 2008's South by Southwest Film Festival, London Film Festival, Boston Independent Film Festival, among twenty other film festivals around the world. It is currently being distributed by Regent in June 2009. In 2006 Daryl directed and co-wrote, Unlocked, a short which was an official selection at the Tribeca Film Festival. It was executive produced by Stephen Daldry (dir. The Reader) and stars Olivia Thirlby (Juno). As an actor, Daryl has appeared in the films Breaking Upwards, The Hebrew Hammer, Porn n' Chicken. Television credits include Law and Order, Law and Order: SVU, and Ed. He is a graduate of NYU Tisch School of the Arts.
Notes
Director Daryl Wein and actress Zoe Lister-Jones will be available for Q&A after the screenings.
Related links