1/1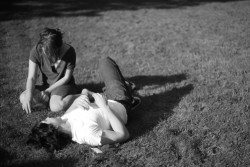 ---
BUMMER SUMMER
East Coast Premiere
Cast:Mackinley Robinson, Julia McAlee, Zach Weintraub, Maya Wood
Crew:Producer: Nandan Rao - Screenwriter: Zach Weintraub - Editor: Jesse R. Fisher - Cinematographer: Nandan Rao - Original Score: Cast Members - Sound: Dustin Wickham and Luc Heuer - Sound design: Katie Rotondi
Sales:Zach Weintraub - Newhard Entertainment, Olympia, WA 98512 - T: 360-480-1382
Email:info@newhardentertainment.com
Synopsis
Via a breathtaking collection of spartan black and white imagery, Bummer Summer observes the emotional fumblings of three not-grown-ups: seventeen-year-old Isaac, his big brother Ben, and Ben's ex-sweetheart Lila. Reunited unexpectedly, they laze together in hammocks and tall grass before setting off on an impromptu road trip along the Washington coast. This hasty and naive attempt to come of age tests the trio's fragile, ambiguous dynamic, which is made increasingly weaker by the brothers' mutual feelings for Lila. Among the first films shot on the new wave of DSLR cameras, Bummer Summer was crafted with a unique visual style and entirely improvised by its cast of non-actors.
Trailer
About the director
Zach Weintraub is an alumnus of New York University's undergraduate film program. Upon finishing school in December of 2008, he moved back to his notoriously artsy hometown of Olympia, WA to write and direct his first feature film.
Notes
Zach Weintraub and Nandan Rao will be available for Q&A after the screenings.
Related links