1/1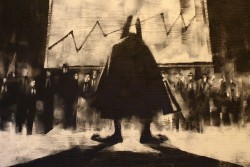 ---
A DIFFERENT BUNNY
World Premiere
United States, 2010, 3 min
Festival Year:2010
Category:Animation
WINNER: Best Original Score
Crew:Executive Producer: Danijel Zezelj / Petikat / Fifth Floor Inc - Producer: Stanislav Habjan - Screenwriter: Danijel Zezelj - Editor: Danijel Zezelj & Jessica Lurie - Original Score: Brandon Seabrook - Sound: Jessica Lurie
Sales:Danijel Zezelj - Brooklyn, NY 11225 - T: 347 756 3655
Email:zipa@wolfenet.com
Synopsis
A small bunny in a big city looks for love in the wrong place.
Trailer
About the director
Danijel Zezelj is a painter and visual artist and author of more than twenty graphic novels. His work was published by DC Comics/Vertigo, Marvel Comics, The New York Times Book Review, Harper's Magazine, Grifo Edizioni, Hazard, etc. He created a series of multimedia projects including live music, live painting and video art, in collaboration with musician/composer Jessica Lurie. Danijel lives and works in Brooklyn.
Danijel Zezelj's filmography
Notes
Danijel Zezelj and Jessica Lurie will be available for Q&A after the screenings.
Related links