1/1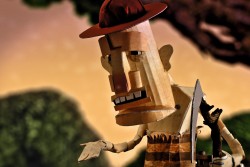 ---
THE MACHINE
United States, 2009, 5 min
Festival Year:2010
Category:Animation
Cast:Andrea Schuch
Crew:Producer: Rob Shaw - Screenwriter: Rob Shaw - Editor: Rob Shaw - Original Score: Sirrobrob - Sound: Brian Kinkley - Animators: Rob Shaw, Sarah Hulin - Additional effects: Fred Ruff
Sales:Brian Mannion - Portland, OR, 97202, USA - T: 503-228-6206
Email:brianm@bentimagelab.com
Synopsis
A fable that follows an innocently forged creation as he becomes determined to consume everything in his path. The characters and scenes of this story are driven forward by the gears of an early 20th century nickel arcade. The machine feels invincible without realizing that his last nickel has dropped.
Trailer
About the director
Rob Shaw bean his animation career at Philadelphia's University of the Arts. In 1997, his film Dirty Summer Fridays, funded by grants from MTV and Eastman Kodak won the award for Best Senior Thesis Film. In 2006 Shaw made the jump to director and has established his eclectic, multiple-technique style through numerous commercial and music video projects. He recently directed a video for They Might Be Giants and a series of spots for Alltel Wireless. Shaw is a Director at Bent Image Lab, an internationally recognized, award-winning animation studio based in Portland, Oregon.
Filmmaker's note
This stop-motion film was shot on a digital SLR still camera.
Related links