1/1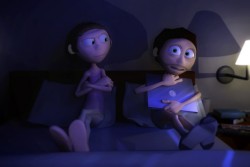 ---
GO TO SLEEP
NY Premiere
Director: Luis Carlos Uribe
Colombia, 2009, 3 min
Festival Year:2010
Category:Animation
Crew:Producer: Luis Carlos Uribe - Screenwriter: Luis Carlos Uribe - Animator: Luis Carlos Uribe - Rigs and Tech Support : AnimationMentor - Lighting, Compositing: Jorge Jaramillo, Carlos Mora - Editor: Luis Fernando Mora - Sound Design: Hernando Tosin, Manuel Diaz
Sales:Luis Carlos Uribe - Bogota, Colombia - T: 57-3104884690
Email:lui5k@yahoo.com
Synopsis
The story of Mandy and Frank, a married couple that's been having some differences when its time to sleep.
Trailer
About the director
Luis Carlos Uribe was born in the United States and moved to Bogota, Colombia at an early age. He began his studies at the Colegio Anglo Colombiano and followed by studying Industrial Design at the Pontificia Universidad Javeriana where he discovered his passion for Animation and Computer Graphics. In 2009 graduated from AnimationMentor where he earned a Associates Degree in Character Animation. Luis Carlos currently works as a freelance Character Animator. He has worked in projects such as the award winning short film "In August", the game cinematics for Ice Age 3 and his short film "Go To Sleep".
Filmmaker's note
"Go to Sleep" is Luis Carlos Uribe's Animation Mentor graduate computer animated film.
Related links