1/1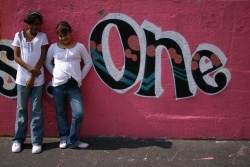 ---
BROWNSTONES TO RED DIRT
East Coast Premiere
Director: Dave LaMattina & Chad Walker
United States, 2009, 85 min
Shooting Format:MiniDV
Festival Year:2010
Category:Documentary Feature
Cast:Isaiah Small, Fred Heard, Destiny Rodriguez, Elena Gonzalez, Malik Adamson
Crew:Producer: Dave LaMattina & Chad Walker - Screenwriter: Dave LaMattina - Editor: Chad Walker - Cinematographer: Chad Walker - Original Score: Joshua Johnson - Sound: Eric Strausser - Associate Producer: Clay Frost
Sales:Dave LaMattina - Copper Pot Pictures - New York, NY 10017 - T: 860.287.1525
Email:dave@copperpotpictures.com
Synopsis
Brownstones To Red Dirt follows four pairs of pen pals from housing projects in Bed-Stuy, Brooklyn and the slums of Freetown, Sierra Leone. These two "lost" groups help one another find their way as they are confronted by remarkably similar issues despite the vast differences of their environments. Through endearing glimpses into the lives of these children, the film highlights the failure of governments and societies to protect their youth. Each pair of pen pals highlights a major issue faced by kids across the world: Isaiah's father left him as a baby; Abdul was first taken, then abandoned by the rebel commander that killed his parents. Malik and Balla each use art, not vengeance, to heal. Augusta's peaceful definition of friendship reaches Destiny in Bed-Stuy, where loyalty is often proven with violence, not love. Fred and Emmanuel, both cast aside by a world that expects little from an inner-city black teen or a third world orphan, are defiant in their quest to better themselves. As the school year progresses, the children use their experiences to unknowingly teach one another simple lessons that will last them a lifetime.
Trailer
About the director
Dave LaMattina studied film at Boston College, where he received a grant from the Jacques Salmanowitz Program for Moral Courage in Documentary Film to direct and produce a documentary about child AIDS activist Nkosi Johnson. He then earned his MFA from the University of Southern California's School of Cinema-Television. Chad Walker studied film at Eastern Connecticut State University and then went on to work with the Weymouth Educational Telecommunications Corporation where he produced and edited 30-minute documentaries covering topics from marine biology to physical fitness. From WETC, Walker enrolled at Sheridan College's Advanced Film and Television Program.
Notes
Dave LaMattina, Chad Walker and Clay Frost will be available for Q&A after the screenings.
Related links