1/1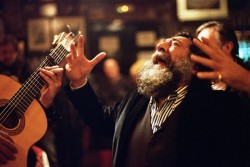 ---
BEING IN THE WORLD
East Coast Premiere
Cast:Hubert Dreyfus, Charles Taylor, Manuel Molina, Hiroshi Sakaguchi, Leah Chase
Crew:Producer: Giancarlo Canavesio, Christopher Redlich - Co-Producer, Sol Tryon, Christopher Gallo - Editor: Paul Forte - Cinematographer: Christopher Gallo - Original Score: Isaac Sprintis - Sound: Greg Conway - Still Photo: Christopher Gallo
Sales:Sol Tryon, Producer - Mangusta Productions, 2144 Narcissus Court Venice, CA 90291 - T: (310) 699-5999
Email:taoruspoli@gmail.com
Synopsis
Being in the World is a celebration of human beings and our ability, through the mastery of physical, intellectual and creative skills, to find meaning in the world around us. Some of our most renowned philosophers, from Harvard to Berkeley, take us on a gripping journey to meet modern day masters-people who not only have learned to respond in a sensitive way to the requirements of their craft, but have also gathered their communities in ways that our technological age threatens to make obsolete.
Trailer
About the director
Tao Ruspoli is an Italian-American filmmaker, photographer, and musician. Moviemaker magazine singled out Ruspoli as one of the "10 Young Filmmakers To Watch" in its spring 2008 issue. His feature narrative debut, Fix, won the Festival Award for Best Film at the 2008 Brooklyn Film Festival, as well as other prizes at several international festivals. It screened in competition at the Slamdance Film Festival and the Santa Barbara International Film Festival, where Ruspoli was awarded the Heineken Red Star Award for "most innovative and progressive filmmaker."
Tao Ruspoli's filmography
Notes
Director Tao Ruspoli, Cinematographer Christopher Gallo, Professor Hubert Dreyfus (UC Berkeley), Professor Taylor Carman (Columbia University) and Professor Sean Kelly (Harvard) will be available for Q&A after the screenings.
Related links