1/1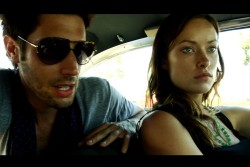 ---
FIX
NY Premiere
WINNER: Grand Chameleon Award, Best Narrative Feature and Best Actor Male
Cast:Olivia Wilde, Shawn Andrews, Megalyn Echikunwoke, Tao Ruspoli, Dedee Pfeiffer
Crew:Producer: Nat Dinga - Screenwriter: Tao Ruspoli, Jeremy C. Fels, Paul Duran - Editor: Paul Forte - Cinematographer: Christopher Gallo
Sales:Cassian Elwes, William Morris Independent, Beverly Hills, CA - T: 310 786 4310 - International Sales: Dany Inthaxoum, REZO, Cannes, France - T: +33 1 42 46 46 30
Email:hobdylicious@gmail.com
Synopsis
Racing across Los Angeles in one, unwieldy day, documentary filmmakers Bella and Milo must race from Beverly Hills to Watts--and places in between--in order to get Milo's brother Leo from jail to rehab before 8pm, or Leo goes to prison for three years. A story inspired by true events, the trio documents their trip from a suburban police station in Calabasas through mansions in Beverly Hills, East LA chop-shops, rural wastelands, and housing projects in Watts as they attempt to raise the $5,000 required to get Leo into the rehab clinic. Along the way they encounter dozens of colorful characters, each with their own anomalous perspective on Leo's larger-than-life personality and style, and each with their own excuse for why they cannot help out. In the end, it may take the desperate irony of a drug deal to get the necessary funds to send Leo to rehab.
Trailer
About the director
Tao Ruspoli is an Italian-American filmmaker, photographer, and musician. Moviemaker magazine singled out Ruspoli as one of the "10 Young Filmmakers To Watch" in its spring 2008 issue. His feature narrative debut, Fix, won the Festival Award for Best Film at the 2008 Brooklyn Film Festival, as well as other prizes at several international festivals. It screened in competition at the Slamdance Film Festival and the Santa Barbara International Film Festival, where Ruspoli was awarded the Heineken Red Star Award for "most innovative and progressive filmmaker."
Tao Ruspoli's filmography
Notes
Diector Tao Ruspoli will be available for Q&A after the screening.
Related links